Music and acting have always been an important part of my life. I can't say I was bit by the "bug," as the bug just seemed to always be quietly sitting on my shoulder. The bug grew, and got louder. I started off singing hymns in four-part harmony with my parents and siblings at church (yes, we were that cheesey family…), moved up to playing guitar and singing a duet from Godspell in my high school talent show, graduated to teaching music in a NYC Ivy League prep school, and then made a slight turn to performing lead roles around the country in opera and musical theater, while still teaching young kids in the South Bronx and belting some jazz/R&B from time to time. At the end of this year, I'll be jumping into the film industry for two roles. Perhaps I'm a bit artistically ADD, but somehow, inhabiting all these roles seems to bring a bit of sanity to my most demanding role of Mom.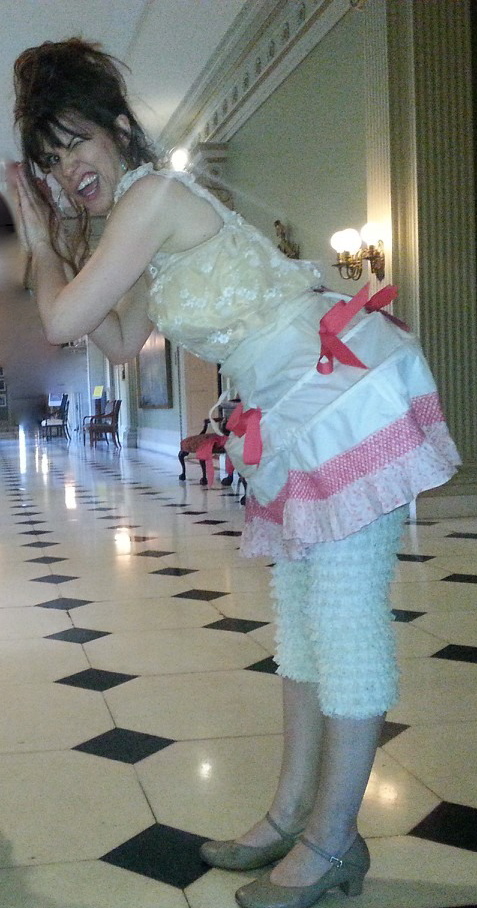 For a bit more detailed bio, read on…!
New Yorker Michelle Jennings has been called "a commanding and attractive presence on stage with an expressive voice of great beauty and power," (Baltimore Sun). Most recently, Michelle performed the role of Kathy in the Staged Reading of My Father's Play, in New York City. Operatic lead roles include Fiordiligi in Cosi fan tutte, in New York City and Thjodhild in the world premier of The Far Travelers, a Viking Opera. She was the soprano soloist for the Hudson Valley Philharmonic's performance of the German Requiem (Brahms), and she covered the role of Roxanne (Countess) in ¡Figaro! (90210), a new setting of Mozart's The Marriage of Figaro, produced in the Off-Broadway Duke Theater in New York City. Other favorite lead roles in opera and musical theater performances include SweeneyTodd, The Music Man, La Cenerentola, Die Fledermaus, La Boheme, and South Pacific, performed in Virginia, Florida, Hawaii, Connecticut, New York, Oklahoma, and Washington, DC. She is also a member of the comedic opera duo, Divas Unleashed, who wrote and perform their operatic comedy show, The Benefit, around the U.S. Michelle is excited to take on the role of Mrs. Payne in the short film, The Act, this Spring.
Enjoying a variety of genres on the concert stage and on recordings, Michelle has performed and recorded concerts of jazz, oratorio, musical revues, gospel and pop for television shows, commercials, studio recordings, and movie underscoring, heard in the US, Great Britain, Japan and Italy. This spring, Michelle was honored to sing on a new musical recording produced by Tony award winner Nick Demos. Having been a school music teacher for nine years, Michelle stays connected with teaching children by raising money for New York City Public Schools music programs and teaching weekly music classes to children in the South Bronx. Michelle lives in Manhattan with her husband, pianist-composer Dr. Tom Jennings (Worship and Music Director at Redeemer Presbyterian Church,) and their two teenage kids.
For me, the major delight of this production was discovering soprano Michelle Jennings, who played the role of Marian. Jennings has an     expressive voice of great beauty and power that would be at home on any stage, and she is an accomplished actress whose every word was clearly intelligible.  – Baltimore Sun
Jennings' Yum-Yum is a remarkably flighty, self-absorbed creature, full of giggles and herself. But when she sings, the effect is close to magical.   -Tulsa World
A young singer of exceptional talent, pretty Michelle Jennings used her lovely soprano effectively … her vocal ease and tone quality in the coloratura ornamentation were extraordinary.  – Sarasota Herald-Tribune

Michelle Jennings (Nellie Forbush) is a perfect fit as the optimistic young nurse from Little Rock, establishing herself as our heroine in her first number.                                           – Honolulu Star-Bulletin

Michelle Jennings was a sparkling, tempestuous Musetta who could flirt outrageously and fight passionately, and her more serious moments were a model of first-class acting and singing. – Asheville Citizen-Times
Jennings as Nellie is an excellent contrast to Loyd's Emile. She moves about the stage with a kind of gawky grace, as if literally feeling her way through the world.                        – Tulsa World
For a change, I could actually understand the words sung by the sopranos, particularly those of Michelle Jennings. The latter is marvelous as the spunky Mabel, whose bel canto trills in 'Poor Wandering One,' qualify her for grand opera.                          – Town & Village (NYC)