"a commanding and attractive presence on stage with an expressive voice of great beauty and power,"   -Baltimore Sun
Most recently, Ms. Jennings was soprano soloist with The McLean Orchestra, she sang Fiordiligi in Così fan tutte, in New York City, and she was the soprano soloist for the Hudson Valley Philharmonic's performance of the German Requiem (Brahms) at the Bardavon Opera House (NY). In the upcoming season, she will cover the role of Roxanne (Countess) in ¡Figaro! (90210), a new setting of The Marriage of Figaro. She will also appear at the Windham Chamber Festival (NY) with Divas Unleashed.
"Jennings' Yum-Yum is a remarkably flighty, self-absorbed creature, full of giggles and herself. But when she sings, the effect is close to magical." – Tulsa World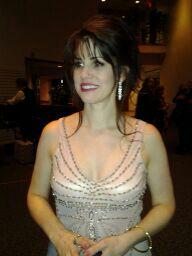 March 31, 2016   This weekend is the culmination of a two-week run of the show, ¡Figaro! (90210). Conceived by Vid Guerrerio, the show is a present-day retelling of the opera Le Nozze de Figaro, with a new translation that includes some Spanish. The show is filled with references to hip-hop, YouTube, Donald Trump, sexting, green cards, even Botox.